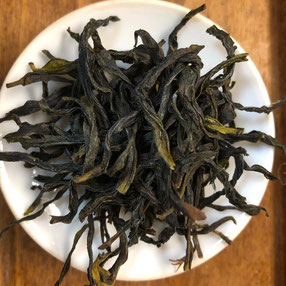 【🌿潮州鳳凰單欉︰鴨屎香﹙未經烘焙﹚🌳~~】
介紹一下新到的鳳凰單欉「鴨屎香」🦆💩!
幾乎人人都會問為何這款茶會如此命名。
有次有位精通日文中文的外籍大學教授,看到包裝上的名字,即用日文問老闆︰「我有沒有看錯?這款茶的香氣像鴨的大便嗎?」
"Duck Shit Aroma" Phoenix Oolong
#鴨屎香
This tea called "Duck Shit Aroma" .
However, in fact, this tea flavors like fresh peach or Jasmine flower.
So why it has such name?
Because long time ago, a farmer found this tea tree could produce surprisingly good aroma tea.
So he was afraid the tree will be stolen.
In order not to attract people's attention, he named "Duck Shit Aroma".
Our "Duck Shit Aroma " tea is from over 80years old tree.
In order to keep the surprising aroma, this tea is not proceeded "carbon roasted".
Therefore it can not be keep longer time so we just imported 1kg only.
This is very very rare seasonal tea which you may never been experienced before!