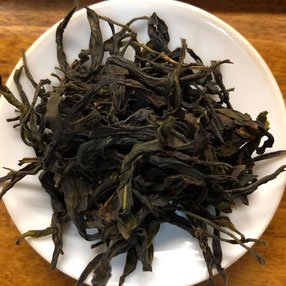 【🌿新茶第二擊︰潮州鳳凰單欉🌳~~】
五月一,勞動節假期,湊巧也是日本一個新年代的開始。
五月也是世界各地春季新茶出產的時候!
繼前幾天的日本新造新茶,來自潮州鳳凰山烏崠的春季單欉也來到香茶房嘞!
單欉分春茶、秋茶及冬茶﹙雪片﹚,當中又以春茶的產量最多,香氣及味道最濃郁,價錢也較高。去年我們到茶園的時候已差不多是秋天,好的春茶已給賣得七七八八,所剩不多。有一兩款我們特別喜愛的,也所餘無幾。今年我們特地趁春季單欉當造的時節去揀貨,也終於試到驚喜處處的春茶嘞!
老闆娘去過茶園後,在潮州市觀光區閒逛,到過不少茶店八卦八卦,他們也不吝嗇給我試茶,但見很多包裝精美的茶,質素也真是普普通通,多數是茶苦而沒有獨特的香氣。當然,茶園的人常笑我們只愛「香口嘢」,他們潮州人倒喜歡濃濃的「功夫茶」!
這個春季我們從接近二十種鳳凰單欉之中揀選了四款出來,希望大家試到不同面貎的單欉呢!
1. 150年老欉 #蜜蘭香 春茶﹙輕火烘焙﹚︰這款輕火烘焙的春茶,較雪片蜜蘭香的香氣更濃郁,香的層次也豐富有蘭花香、蜜香及老茶樹散發出來的底蘊。我們喝過就知道原來春茶是這樣香的!喜歡雪片蜜蘭香的不要錯過~
2, 老欉 #鴨屎香 春茶﹙未經烘焙﹚︰經過發酵但未經烘焙的鴨屎香,茶湯透出明顯的茉莉花香氣!這是茶的原來香氣,非添加。清澈清甜的味道。不過由於未經烘焙,茶香容易散發,這款茶我們只入了少量。
3, 老欉 #薑母香 春茶﹙輕火烘焙﹚︰味道香而較溫和,帶點點薑的香氣,淡淡的甜,特別的是有點milky 口感,喝下令人有種溫暖感。當地人說「老茶客」特別鍾愛這款「薑母香」。
4, 老欉 #單欉紅茶 春茶﹙輕火烘焙﹚︰原來單欉也有紅茶!這款紅茶頗有驚喜,因為茶帶蜜香之餘也有點點棗甜,茶身較厚,喝著也舒暢。
以上的鳳凰單欉春茶的價錢都在 $160 - $180/50克之間。以質素來計,是相當合理的價錢。
對單欉有興趣或想認識更多的茶客,希望大家都會喜歡它們吧!
🌿Fresh Phoenix Oolong just arrived!🌿
We have been importing 4 kinds of very unique Phoenix Oolong:
1, 150年老欉 蜜蘭香 鳳凰單欉 春茶
2, 老欉 鴨屎香 未焙 鳳凰單欉 春茶
3, 老欉 薑母香 鳳凰單欉 春茶
4, 老欉 鳳凰單欉 紅茶 春茶
All of the tea are from 烏崠山, grow without chemical pesticides.
Today we received 蜜蘭香 which is this year's "Significant " Spring Phoenix Oolong.
This tea has beautiful orchid flowery aroma with long lasting and waves of sweetness in mouth.
Spring tea is the best season for Phoenix Oolong as "high" and "beautiful " aroma but less bitterness.
Last year we were able to purchase very little amount so it was sold out in 2weeks.
This year we went to the tea farm on harvest time so we were able to get the best quality tea with a reasonable price.
(Our price is $160-180/50g which is incrediblely reasonable considering quality!!)
Hope our customers could enjoy this year's best quality Phoenix Oolong!!
#香茶房 #kaorisabo #鳳凰單叢 #鳳凰単叢 
#潮州 #春茶 #phoenixdangcong #單欉