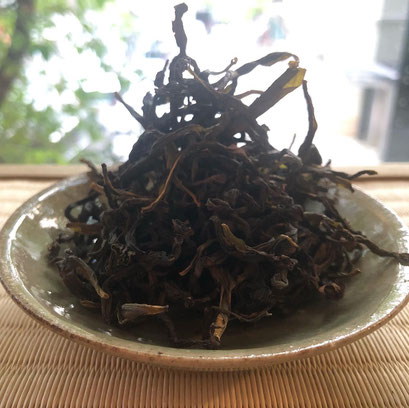 香茶房有賣來自潮洲鳳凰的 100年、200年樹齡的水仙茶。
今年來了 有300年樹齡的 老欉水仙。
在香港茶店的找到的
#水仙茶
多數來自福建及經過重火烘焙。
但這款 300年老欉水仙則是淺焙,像我們賣開的單欉。
老闆問茶農「為何這款水仙用輕焙?」
他說︰「因為水仙通常不帶花香,但這款 300年水仙卻帶濃厚的花香。我們不想烘焙的味道把花香遮蓋,所以選擇了輕火炭焙。」
所以這款 300年老欉水仙,帶蜜糖的甜及淺淺的牛油膩香。令人驚喜的是它的優雅花香——在 100年、200年水仙是嘗不到的。喝後花香回甘在口腔中縈繞迴旋。茶農說,今年的味道特別的好,不是每年都可以造得出來。
300years old tree "Shui Xian"
#300年老欉水仙
This is very special and unique tea.
Normally "Shui Xian" would be strongly roasted.
However this tea is lighter to be roasted.
I asked to the farmer "why?".
He said Shui Xian normally does not have flowery aroma but this tea has it and very rich in taste. So he did not want wipe the taste by carbon roasting too much.
Yes, I feel the rich taste is like tasting honey and butter. The flowery aroma is so gorgeous. Waves of taste and aroma can go so long.
The farmer said it can not have this taste and aroma every year.
This year is exceptional.
Place: 烏崠山
Age: 300years
Altitude:810m
Available amount: 1.5kg