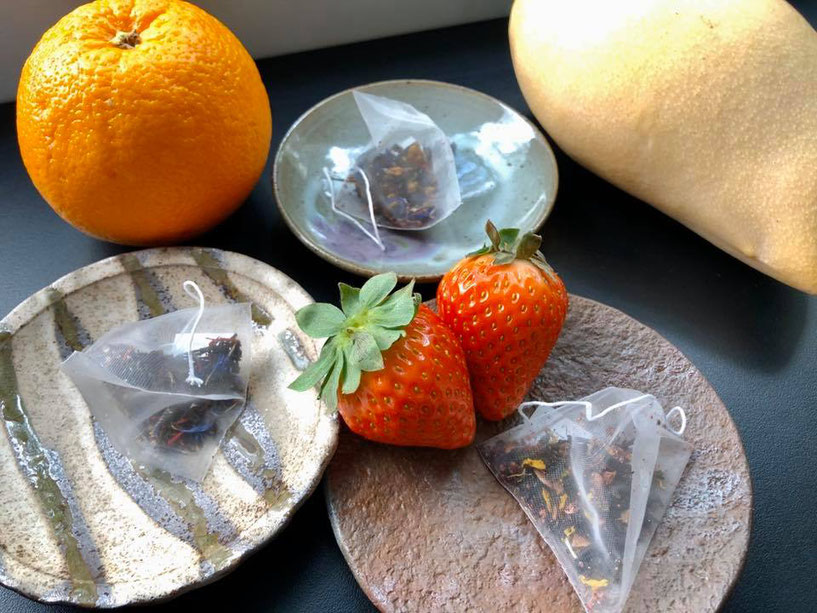 今年帶給大家的最新茶係來自印度的水果香料紅茶。紅茶中有真水果乾﹙0%化學香料、果味﹚、食用乾花及微微的天然香料,0% 添加糖份和色素。
這款 100% 成份天然的花果紅茶,有士多啤梨洛神花紅茶 Strawberry Hibiscus、杧果紅茶 Mango Tango 及香橙紅茶 Orange Sorbet 三款味道。之前有不少客人問過我們有沒有果茶,那時我們都未找到合心水的。後來試過這種花果紅茶,喝後覺得有點驚喜才入貨。我們都有飲「花果紅茶」而中伏的經驗︰假味怪味,喝後喉嚨腸胃都不太舒服。但這幾種花果喝後有種「飲果茶唔中伏,仲要好飲!」的驚喜,或多或少帶給你「今日有好運」的感覺。
這款茶包一包沖成一杯,喜歡的話加點點蜜糖吊味也可。
面對疫症,除了防疫,最應該做的莫過於增強自己的抵抗力啦!早睡早起,曬吓太陽,不去人多的地方,多喝暖和茶水,保持心情輕鬆啦﹙明白呢樣好難好難……﹚。但飲杯好茶,總會令開心啲啲嘅!
#杧果紅茶
Mango tango
杧果、紅茶茶葉、洛神花及肉桂
#香橙紅茶
Orange sorbet
乾橙肉、橙皮、洛神花、紅茶茶葉及肉桂
Happy Chinese New Year~~~
This is our first new items of this year.
They are fruits tea which only using real fruits and edible flowers , tea and spices.
Usually fruits tea or flavor tea using chemical flavor but I do not like it as feeling of some stress on my stomach after drinking it.
So we never use any chemical flavor or colors for making these tea.
Drinking this tea will simply making you relax and happier~~♪
You do not have to add sugar,
But if you add a little bit of sugar into the tea, you may feel "fruits" stronger.
Our fruits tea are,,,
Mango tango
Orange sorbet
Strawberry Hibiscus
Unfortunately this new year is very stressful concerning about corona virus
Drink more tea for protecting your body and releasing the stress~~