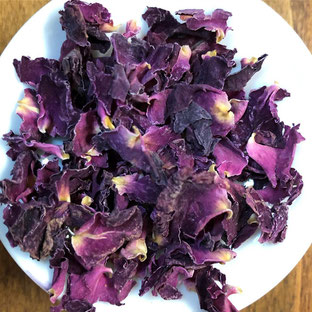 【🌹新到 印度有機高原玫瑰🥀】
新到一批來自印度海拔 8000 呎 喀什米爾高原的玫瑰(花瓣)。這批有機玫瑰色澤偏紫紅色,據說是因為玫瑰生長的季節不同所致,每年只有三四月這兩個月收採下來的玫瑰才有這樣的顏色!較諸粉紅玫瑰,它帶有較重莓果味道。如加上一兩片鮮檸檬或洛神花,再加點蜂蜜🐝,相信會是初夏的健康特飲🍹。
#ハーブティー #chamomile
#香茶房 #日本茶 #有機洋甘菊 #喀什米爾高原
#Kaorisabo #japanesetea #herbaltea #花茶 #花草茶 #highland #ROSE #高原玫瑰
Fresh Rose tea arrived~~🥀
Fresh Rose has just arrived!
This time is "Purple Rose" from highland Kashmir where is over 8000ft higher.
Taste is stronger than pink rose and you may taste some tanning which means containing good nutrition.
Aroma is like more fresh berry fruits if I compere to pink rose which I would describe as more elegant.
This "Highland Purple Rose" is seasonal special flower tea.
(Harvested only 2months a year)
Please try~~~🌹