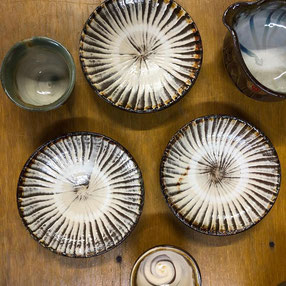 老闆九州"快閃"之旅︰小鹿田燒﹙三﹚
老闆探訪了一些小鹿田燒的工藝家。
他特別欣賞 88歲 的 匠人 Kuroki Riki 的作品。他的作品都是以柴燒及四百多年來的傳統方法製作而成。可惜他去年已經退休。
不過老闆也買了一些他的作品,一個月後會到香茶房。這也是香茶房第一次引入如此美麗的小鹿田燒啊~~
I visited to many of potter houses in Ontayaki village.
Then I found a outstanding art work .
These artworks are made by Kuroki Riki who is 88years old.
Sadly he has already retired last year.
So these artworks are made in his last job and no any more .
His artworks are all hand made and using wooden kiln to burn, in the way to make inherited from 400years ago.
These artwork will be arriving about 1month later to Hong Kong!